The days of your website when you make it design is being viewed only on a desktop computer are over. Mobile devices are the new truth or fact and your website needs to be viewable in all types of devices and screen sizes. Mobile Responsive web design is a method of developing your website so that it automatically adjusts to the screen size and device used to view the site. This provides a consistent user-experience such that your site scales to desktops, notebooks, tablets and smartphones now and in the future. This consolidates web traffic for better SEO results.
In different words, instead of having a separate site for desktops, laptops, tablets and smartphones, responsive design delivers a single content and code that serves all audiences. Although developing a website with responsive design requires a higher initial investment than a classic web design project, the investment is well worth it for most businesses.
People now a days continuously changing from one device to another and expect a great web experience in any device they see. Hence businesses know that responsive design is no longer just an option, but mandatory. It's better to be ready than be left behind. Smartphones, tablets or desktops, have multiple screen sizes, but guess what, all user views a similar content of a particular website on different devices. What makes it possible? Well, they all have gone responsive.
Best website redesigning Services in hyderabad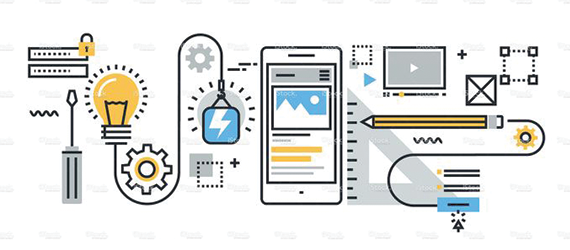 With Flash becoming obsolete, web is approaching towards a standard driven web development that uses HTML5 and CSS 3. That's why design went responsive. Over the past few years, it has turned into a device unsure approach to deliver content to users. Mobiles to a HDTV, a responsive website adjusts as per screen size. Responsive website is simple, clean, uses single URL, single content, and one HTML code to optimize a website according to the screen size and resolution. Design and development goes hand in hand – be it a mobile or desktop, responsive design allow a website to appear seamlessly on any platform and unites the content at one place. Clashing to any other responsive web designing services that exaltations user-experience, I also takes care that your website provide a unified web browsing experience. I use set of tools and technology such as media queries, flexible grid-based layouts and use of flexible images & media to make websites more accessible. To offer smoother responsive website development service.
Responsive web design allows a website to adapt to and provide an optimal experience on any device it's being accessed from. This means that your website should look and function flawlessly for a user on a desktop computer, laptop, tablet, or smartphone. As of its growing importance, every website developed by me deeds responsive web design, adjusting perfectly to each device a website's users are retrieving it from. Ensuring that your website caters to its users' needs is vital, and the device it's being accessed on is very telling of the wants, needs, and specifications of a user. A user accessing your website on a laptop will likely behave differently than a user on a mobile device, so it's important to be knowing of this.
Websites that employ responsive web design look and work their best on every screen and device. Page widths, colours, fonts, links, text, graphics, and videos adjust automatically to match the shape and dimensions of everything from a television-sized HD monitor to a palm-sized smartphone. Partnering with responsive website design service provider allows you to get multiple sites for the price of one while ensuring that the site features the web tools and content you need to grow your organization. As a responsive web design provider, I'm not only including responsive design in your new website design project, but if you have a website and need to update it with responsive design, I can modify your website's design and make it responsive. When you're looking for responsive web design services in Hyderabad, look no farther than me. I'm a leading full responsive website designer who can get your site responsive.
Responsive Web Design isn't a trend anymore, it's a must. Digital content is meant to be viewed on an incredible overabundance of devices in today's world. Thus, Responsive Web Design offers the way forward. It's perfect for devices that switch from portrait orientation to landscape in an instant or for when users switch from a large computer or laptop screen to any mobile screens. Media queries allow the page to use dissimilar CSS style rules based on features of the device the site is being displayed on, most commonly the width of the browser. Flexible images are also sized in relative units so as to prevent them from displaying outside their containing elements. Impressed already.
Technologies I use for Website Redesigning services
I design responsive websites using latest HTML5 and CSS3. I also use some of the Responsive Frameworks available. Here's a roundup of the frameworks currently being used by me.